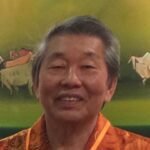 Keng Seng Choo 龚明金
Born 1945, Kedah, Malaysia
Keng Seng Choo was born in Alor Setar, Kedah in 1945. Keng Seng Choo completed his graduation in 1965 at Nanyang Academy of Fine Arts in Singapore. He is a full-time Malaysian artist. Currently he is the vice president of North Kedah Art Society, member of National Visual Arts Gallery Malaysia, member of Penang Water Colour Society, member of Angkatan Pelukis Kedah, member of Penang Art Society and member of Alumni Nanyang Academy of Fine Arts.
Since winning a Silver Medal of the New York International Art Show in 1970, he is becoming well known and people are complimenting him on his artworks. There are many local and foreign institutions that hold his collections namely National Art Gallery, H.R.H the Sultan of Kedah, UUM, Balai Seni Kedah, Malaysia Airlines, Public Bank, Bank Negara, Cathay Pacific (Singapore), Goodwood Hotel (Singapore), Lady-Hill Hotel (Singapore), Hilton (Singapore), Micasa Hotel Apartment (Kuala Lumpur), Pertronas, Balai Seni Kelantan and Daiichi Modern Art Gallery.
His winning awards include:
1988 : won first prize-"posted in Malaysia" organized by Micasa Hotel apartments, Kuala Lumpur.
1982 : won second prize in oil painting competition in Kedah.
1970 : "Love Is Blue" which has won a silver Medal at the New York International art show.
1965 : won third prize in oil painting competition in Malaysia open art Competition.
龚明金先生是一位来自马来西亚的全职画家。他于1945年出生在马来西亚吉打州,1965年毕业于新加坡南洋艺术学院。现任吉北艺术协会署理会长,马来西亚国家美术馆永久会员,槟城艺术学会会员,南洋美专校友会会员,马来西亚水彩画会,槟城水彩画会及吉打艺术学会会员。
自他的作品于1970年在纽约国际艺术展初试啼声赢得银奖后,多年来陆续在世界各地获得了好评和奖项。许多马来西亚和海外的公众和机构也收藏了他的作品。