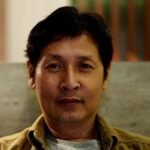 Kris Surajaroenjai – Thai artist. He was born in Bangkok on August 2, 1965. He planned to become a lawyer, but he decided to leave the studies after the first year at the University. Kris devoted his life to painting. In 1990 Kris began to paint actively and share the beauty of his inner world with people. Kris travels a lot. He has been in the jungle many times, which immensely delights and inspires him to create his masterpieces.
In Russia he is known by cycle of paintings dedicated to the elephants – the symbol of Thailand. Kris has his unique vision of these beautiful animals – Kris' Elephants are Rainbow.
All the paintings of this artist are fascinating, open one's own reality to each other. They take us in a world full of fantasy, adventure and magic. A deep philosophical meaning is hidden for a variety of palettes.